Unboxing
Home Assistant Yellow
Ethernet Cable
Power Supply
Setting up
Plug in your Ethernet cable and make sure it is locked into place.
The other end of the Ethernet cable will need to be connected to your Router or Switch.
---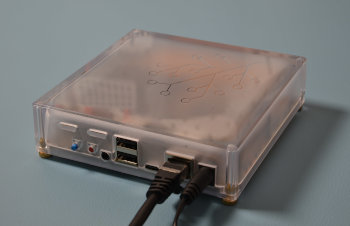 Connect the power to the wall and then to the Home Assistant Yellow.
---
Step 3
Getting started with Home Assistant
Initial startup may take a while, depending on your internet connection.
Install the appTo access Home Assistant from your mobile device, use the QR code to locate the app in the app store.
Select your Home Assistant Server:
Desktop: Visit http://homeassistant.local:8123 to access the Home Assistant frontend.
The Home Assistant frontend guides you through the initial onboarding.
For further information, refer to the instructions provided under https://www.home-assistant.io/getting-started/onboarding/.
---